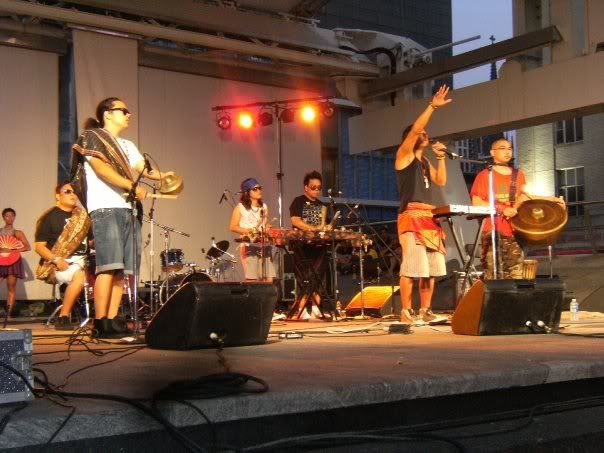 Santa Guerrilla at Yonge-Dundas square for the Filipinos Making Waves Festival, 2009
Santa Guerrilla is performing at Bellevue Square Park in Kensington Market this Pedestrian Sunday (August 30) at 3 pm for the Green Culture Festival! Since this is a festival on eco-living, there will also be workshops on DIY lifestyles, neighbourhood plant identification, a talk on "the negative environmental effects of modern technologies," a fabulous fashion show on hemp clothing, and other performances from the likes of Escalate (Jazz Rock Fusion), Kelvin of Pale Fire Union (Folk singer and guitarist), and Mario Munoz-Voy (Bossanova, Classical, and Jazz). The event will start at 11 am and is planned to go on until 7 pm. Echo product vendors will also be hawking their wares.
If you were blown away by Santa Guerrilla at the Filipino Making Waves festival, then you don't want to miss this side of Santa Guerrilla. Come out to the Green Culture Festival, and open your eyes to an alternative way of living from the denizens of Kensington Market!